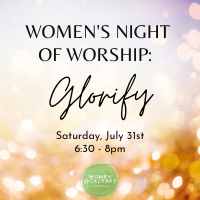 Women's Night of Worship: Glorify
Saturday, July 31, 2021 6:30 - 8 p.m.
Bastrop Small Auditorium
3005 Loop 150, Bastrop
Let's encounter God's presence together as we worship and fellowship through singing, Bible reading, prayer, and communion. Please register online
here so we know to expect you.

"Therefore encourage one another and build one another up, just as you are doing."
1 Thessalonians 5:11
The Women's Ministry of Calvary Baptist exists to serve all women and influence them for Christ! We aim to share and exalt Him, serve Jesus and others, and study to apply God's Word. (Matthew 28:18-20; 1 Thessalonians 5:11; Philippians 2:14-16; 2 Timothy 2:15; Luke 11:28)
Just like our church mission, Calvary Women's events and activities are designed to demonstrate God's love, declare the Good News of the Gospel, and disciple near and far. We hope you will join us as we grow in our faith. (Matthew 16:15-18; Matthew 22:37-40; Matthew 28:18-20; Acts 1:8)
Specifically, our goals are:
To foster community and relationships among the CBC women (and beyond) through prayer, meetings, activities, and outreach.
To encourage daily devotion to Christ through the application of sound doctrine.
To challenge women to grow spiritually through teaching, mentoring, and encouragement.
To meet the needs of ladies of all ages and stages, from all cultures and backgrounds, and in all seasons whether single, married, and with or without families.
To inspire women to find and use their God given gifts to serve others locally and beyond.
Stay In The Know:


ONGOING WEEKLY EVENTS
Women's Bible Study - Monday Evenings 6 pm Smithville Campus.
Women's Bible Study - Tuesday Mornings 9:30 Bastrop Campus. (Off during August)
Women's Prayer Group - Wednesday Mornings 10:00 am Bastrop Campus.
Women's Bible Study - Wednesday Evenings 6:15 pm Bastrop Campus.
Contact [email protected] or the church office for more info.